The Most complete C15 Flooring & Floor Coverings contractors Study kit!
The C15 Flooring contractors license kit includes:
C15 Trade Exam study manual
Law & Business Exam study manual
Online Practice Exams for 12 Months
Math & Health/Safety Discs
Audio Lectures on CDs
Video Lectures on DVDs
UPS ground shipping. *Overnight shipping is available
11 Downloadable forms and documents to help you with your contractors license
FREE license application review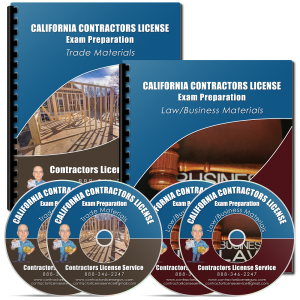 $335.00 +tax/shipping
"Thanks Guru! The study materials really helped me pass my state exams. I'll recommend you to everyone!" Rick M.
Everything you need to pass your CSLB C15 Flooring Contractors License exam!
"Aced them both in a total of 2 hrs…the C-15 Flooring study material was great and your help was invaluable…Thanks for all your help in answering my questions before I purchased your study materials. I passed both tests today and wanted to let you know your materials were invaluable in my test preparations effort." Mark B.
Study Material Information:
The C15 Flooring and Floor Covering contractors license exam manual briefly covers the major topics of the State exam including Plans and Estimating, Jobsite Preparation, Carpet, Resilient Coverings, Laminate Floors, and Hardwood Floors. The Flooring and Floor Covering Manual also contains the Health and Safety Orders and Flooring and Floor Covering Review Questions.
The Math Review Lecture explains the math formulas in the first part of the Flooring and Floor Covering Manual. The Flooring and Floor Covering lecture covers the topics addressed in the manual specific to the C-15 trade exam. The Health and Safety Lecture covers the Health and Safety Orders at the end of the Flooring and Floor Covering manual. The Flooring and Floor Covering Review Questions Lecture covers the Flooring and Floor Covering Review Questions in the back of the manual.
TESTING STRATEGY:
This is a multiple-choice examination with four choices per question. Some questions require mathematical computation. Examination questions are written to provide only one BEST answer and are NOT written as trick questions.
There is no penalty for guessing. If you are unsure about a particular question, it is better to try to answer the question than to leave the question blank. Ample time is provided to answer all examination questions, so be sure to read each question and its four choices completely and carefully before selecting the BEST possible answer to the question. Do not memorize the sample practice exam questions.
Download the CSLB C15 Flooring Study Guide
Trade Description:
The C15 flooring contractor can prepare the surface that is required for installing flooring as well as floor coverings. He or she can install carpets, resilient tiles, wood flooring, and other floorings. However, they are not required to work on ceramic tiles.